Our Staff
Pastor Jim Kennemur
pastor@maderaavenuebiblechurch.org
Pastor Jim Kennemur has been the senior pastor of MABC since March 1, 2015. He grew up in Fresno, graduating from Hoover High School.  He then attended and graduated from Fresno Pacific College (now University) and the Mennonite Brethren Biblical Seminary.  Pastor Jim has been in the pastoral ministry for 34 years, having pastored churches in Morro Bay, Stockton, and most recently, Squaw Valley.  After which Pastor Jim and his wife Betty entered into an extended sabbatical time, after which Pastor Jim began looking for God's direction into his next ministry.  That was when God led him to Madera Avenue Bible Church and his ministry began there.
Pastor Jim has also been a Police/Fire Chaplain and reserve firefighter for the city of Morro Bay, was on the founding board of Jim Elliot Christian High School in Lodi, and is currently a member of the Christian Motorcyclist Association chapter in Fresno, known as the Romans Road Riders.
Pastor Jim and his wife Betty have been married for almost 40 years and have two daughters.  Their older daughter Michelle and her husband Larry have four children and are serving in a church in Benicia.  Their younger daughter Amy and her husband Suneel just recently had their first child.

Aaron Schwartz, Youth Pastor
aaschwartz33@gmail.com
Aaron Schwartz is a 2016 graduate from Fresno Pacific University. Aaron currently resides in Fresno in on-campus housing at Fresno Pacific, although he grew up in Fresno for 13 years and in Reedley for the next 4 years. He has a passion for youth ministry, having served in college as a youth intern at Bethany Mennonite Brethren Church in Fresno and as a volunteer in middle school ministry with Youth for Christ. He was recently hired on as a 8th grade science teacher at Martin Luther King Middle School. Aaron arrived at Madera Avenue Bible Church in December of 2015 and is very excited to engage in God's ministry and experience what He has planned.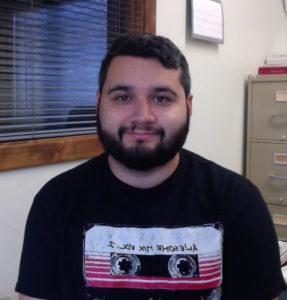 Michael Mulherin, Church Secretary
office@maderabiblechurch.org
As church secretary Michael puts together the bulletins and the power points, manages the church website and the music binders for Sunday.  He also manages the church office and assists the pastor as needed. Michael has been attending Madera Avenue Bible Church for 12 years. He helps with the AWANA program on Wednesday nights and with Sunday school on Sunday mornings. He first gave his heart to God at Sunday School in 2001 and since then has been a firm believer in the word of God.